It's more than garage storage.
It's your life.
CONSULTATION
IT'S TIME TO GET ORGANIZED.
CUSTOMIZED GARAGE STORAGE CHARLESTON HOMEOWNERS WANT
An organized garage makes it easier to enjoy your favorite activities, instead of searching through stacks of boxes or piles of sports equipment for your gear. With a proper plan in place, you will know exactly where to find your items at a moment's notice. At Garage Ops, our goal is to help you create the perfect plan for your garage storage in Charleston.
Not every homeowner needs the same storage plan, so we tailor our suggestions to your available space and specific storage needs. We offer a variety of products to help you tame the clutter in the garage. Choose from shelving, cabinets, overhead racks or flooring to transform your garage.

FREE CONSULTATION
Get a free consultation and estimate before you buy anything.
INDUSTRY EXPERTS
We have the knowledge and expertise to offer you the best solutions.
LOCALLY OWNED
We are a locally owned and operated business.
Innovative Designs
Our shelving design allows homeowners access to their floorspace again. Through the use of garage walls and ceilings, we are able to get your boxes, bins and other items safely off the floor. Other shelving options simply stack your items and you lose precious square footage.
Layered Storage
Hanging items from the bars and hooks beneath each shelf truly maximizes the potential for your garage storage in Charleston. This layered storage also makes it easy to grab what you need without first moving items out of the way.
CONTACT US TODAY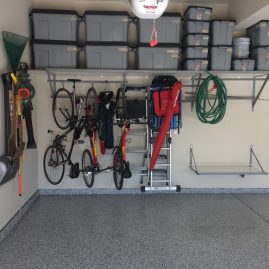 The products are of superior quality and the installation was done professionally and in a timely manor. I had a ceiling rack… Read more
Tailor-Made Solutions
Your family's storage needs will be different than you neighbor. Our trained professionals approach each consultation with that in mind. We will travel to your home to assess your available space and create a storage plan based on the space and your budget. Our estimates are free and carry no obligation for purchase.
ONE-STOP SHOPPING
Functional solutions for garage storage in Charleston shouldn't be so difficult to find. That's why we only carry products that make it easy to keep the garage organized. Our products maximize the space in the garage to help you store more in less space, while giving back precious floor space. Start parking the family vehicle in the garage again before you know it
!
START YOUR GARAGE TRANSFORMATION
Tired of the hiding your garage because of disorderly items? Tame the clutter with our help. Click below to request your free, no-obligation estimate!
GET A FREE QUOTE
//
AREAS SERVED NEAR CHARLESTON
Arnoldsburg, Beckley, Bluefield, Buckhannon, Buffalo, Chapmanville, Charleston, Clay, Clendenin, Craigsville, Cross Lanes, Dunbar, Fayetteville, Gauley Bridge, Glenville, Grantsville, Hamlin, Hinton, Ivydale, Lewisburg, Logan, Madison, Montgomery, Mullens, Nitro, Oak Hill, Princeton, Pt. Pleasant, Rainelle, Ravenswood, Richwood, Ripley, Scott Depot, Seth,Sissonville, South Charleston, Spencer, Summersville, Sutton, Teays Valley, Walton, Weston, Whitesville, Winfield
Contact us for the best garage storage in Charleston!