// MOTORIZED OR FIXED RACKS
Durable racks with or without the use of a ladder.
// ABOVE THE COMPETITION
Store with confidence with industry leading weight capacity.
// OUT OF SIGHT, OUT OF MIND
Store rarely used items up high and out of the way.
CONSULTATION
IT'S TIME TO GET ORGANIZED.
CONSULTATION
IT'S TIME TO GET ORGANIZED.


SAFE OVERHEAD GARAGE STORAGE CHARLESTON
TRUSTS
Do you feel like you're out of space in your garage? Instead of cramming boxes on shelves and trying to find room on the floor, store above all the clutter. Our overhead garage storage in Charleston is the perfect place for long-term storage, and is a life-saver if you're looking for more space in your garage.
//
STRONGER THAN THE REST
Our racks can handle up to 1,000 lbs of your storage, if fully mounted to the garage walls. We can hold more than the competition, and that's why ours is the overhead garage storage Charleston homeowners trust.
Our overhead racks are the perfect place for your seasonal storage. It's up and out of your way during it's off season, and easily pulled back down when that time of year rolls around again.
//
EASY ACCESS
Don't worry about your storage being too out of reach. Our open corner design makes it easy to access your storage without a fuss.
SAFETY LIP
2" lip securely holds all of your storage in its place

CUSTOMIZABLE
Racks can be combined for greater storage capacity
MOTORIZED OPTION
Skip the ladder and load your racks from the ground level
PROFESSIONAL INSTALL
Authorized dealers ensure a proper installation
//
DURABLE MOTORIZED SYSTEM
Only industry grade materials are used to provide you with the most durable motorized system. Each of the four Bluetooth motors is positioned to adjust their pulling power depending on where you place storage items.
Large outdoor and long-term storage items can all be stored out of sight while being easily accessible. Each garage storage lift Charleston owners love can be installed and ready for use in just a couple of hours.
• Manufactured in the U.S.A.
• Controlled with your smartphone
• 350 lb storage capacity
• Lifetime warranty
YOU'LL LOVE OUR OVERHEAD STORAGE RACKS
Custom Arrangements: Our overhead garage storage in Charleston is a perfect fit for any garage. The racks can be easily customized to your specific needs.
Stable: With our use of square downtubes and T Braces mounted on all 4 sides of the rack, your racks wont sway or swing.
Safety Lip: Our 2'' safety lip runs all the way around the platform to ensure your storage stays in place.
Adjustable: Our overhead storage racks are easily adjusted to accommodate any size of storage or garage. You can combine racks to make a larger platform, lower the racks for taller items, or change the direction for easier access.
FREE ESTIMATE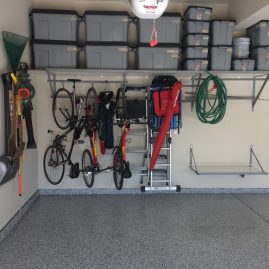 The products are of superior quality and the installation was done professionally and in a timely manor. I had a ceiling rack… Read more
MORE OVERHEAD HIGHLIGHTS
Durable Construction: We make our overhead racks with a strong steel frame. We also use a crossbar and grid pole design for added strength and security.


Affordable:
We know that storage products can get pricey. These are worth your time because they'll outlast all the other options, saving you money through the years.
Professional Installation:
We'll make sure your overhead racks are installed correctly, and you won't have to break a sweat!
// AS SEEN ON
If you're looking to increase the space in your garage, give us a call today! Our overhead garage storage is the perfect storage solution.

It's more than storage.
It's your life.™
OVERHEAD SOLUTIONS
Bluetooth motors can raise and lower the platform using your smartphone
.
Wall mounted racks can hold up to 1,000 pounds per rack.
Each 8' rack can be combined with more racks to form even larger platforms.
Made from industrial grade steel, these racks can handle anything.
Get your bikes and other accessories off the floor with Bluetooth motors.
Overhead racks come in Granite Gray and Desert Stone to match your Monkey Bars Shelving System.