// GARAGE MAKEOVERS IN CHARLESTON
Design your garage to match your style.
CONSULTATION
IT'S TIME TO GET ORGANIZED.
CONSULTATION
IT'S TIME TO GET ORGANIZED.
STYLISH GARAGE MAKEOVERS IN CHARLESTON
The benefits of our garage storage solutions don't stop at their design. These products have been crafted to enhance the look of any garage. Each product seamlessly works with the others and can be coordinated to match to give your garage that picture-perfect finish.
//
MONKEY BARS & OVERHEAD SOLUTIONS
Store your items safely off the floor with our Monkey Bar Shelving and our Overhead Storage Racks. Both are offered to you in two powder-coated finishes; Granite Gray and Desert Stone.

//

HOOKS, HANDLES & ATTACHMENTS
Hang items from our trusted hooks available in multiple configurations. Our hooks and accessories for the shelves and Slat Wall are designed to match in the Graphite Pearl Finish. Your cabinet hardware is also available in the same finish.

//

CUSTOM GARAGE CABINETS
Sometimes you simply want to hide your storage items and we can help with that! Our custom garage cabinets are offered to you in a variety of finishes and configurations that can be tailored to your unique storage needs and wants.

//

FLOORING UPGRADE
Treat your garage floor to a new look with our durable garage flooring options. We offer 10 coating options as well as a variety of tile options that can be easily coordinated with your storage solutions to complete the look of your garage makeover in Charleston.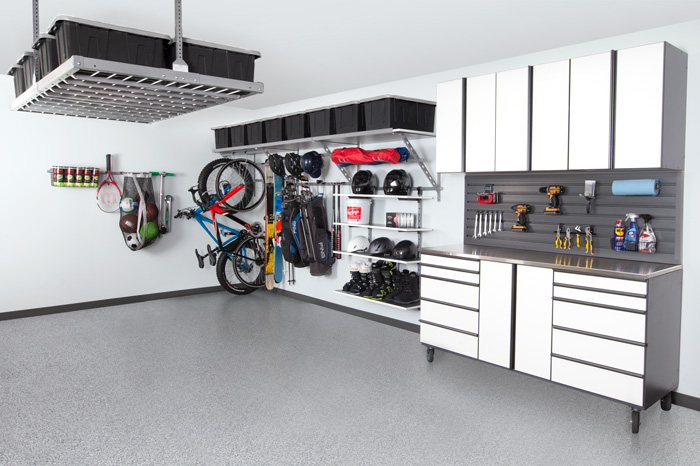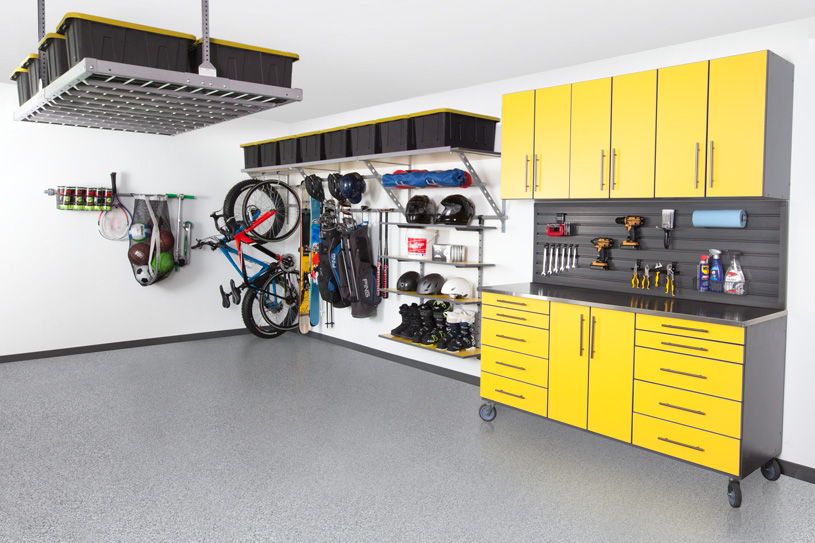 WHY DOES THIS MATTER?
Years of experience has taught us that the most functional garages utilize a variety of storage solutions. Mixing multiple storage solutions that don't match simply adds to the confusion in the garage and can often lead to a more cluttered look. Our products are designed to work in tandem to give your garage that clean and sleek look you often see in magazines.
Creating a garage makeover that looks great while maintaining organization doesn't have to be difficult. We have the tools and experience to completely transform your space.
We are able to help you take back your garage at a competitive price point.
HOW DO WE DO THIS?
Gorgeous Garage storage products are industry-leading storage solutions for the modern garage. We are the exclusive dealer for these products in Charleston, WV.
To view more design and color ideas, visit our line card gallery.
FREE ESTIMATE