// SHELVING AND RACKS
Get a one of a kind garage with top of the line products.
// WE'VE GOT OPTIONS
Custom designs to fit any garage and any hobby.
// ROOM TO SPARE
Get garage clutter off the ground and out of the way.
CONSULTATION
IT'S TIME TO GET ORGANIZED.
CONSULTATION
IT'S TIME TO GET ORGANIZED.
FUNCTIONAL GARAGE SHELVING CHARLESTON
FAMILIES LOVE
We carry the industry-leading garage shelving from Gorgeous Garage. We offer this garage shelving in Charleston because of it's strength, durability and versatility. This garage storage product is built with families in mind and has been created with premium materials to ensure longevity.
Our garage shelving in Charleston has been powder-coated in order to keep your shelves looking brand new for years to come. This coat makes the shelves resistant to scratches and rust
.
//
VARIETY OF ACCESSORIES
We offer a variety of storage accessories that can further maximize your storage space when paired with our shelves. Ball bags and wire baskets are perfect for keeping awkward-shaped items stored securely and out of the way.
The bars beneath this garage shelving in Charleston make it easy to hang items in layers to maximize storage space. Add moveable hooks to the bars to create even easier storage.
STRONG
Holds 1000lbs every four feet of shelving
TWO COLOR OPTIONS

Designed to match any home and style
OFF THE FLOOR

Get everything off of your floor for easy cleaning
COLOR COORDINATED
Designer Series finishes match your garage cabinets
PRACTICAL GARAGE SHELVING
Many garage shelf options take up a good chunk of floor space and don't hold up over time. Our solution gets your items safely off the floor and out of the way.
Strength: Made with industrial-grade steel, our garage shelves can easily hold up to 1,000lbs on every 4ft section.
Professional Opinions: Many homeowners are unsure of how much shelving they should purchase to store their items. Our trained and experienced technicians will assess the amount of stuff you need help storing and will leave you with their professional opinion of how much shelving you need. You'd be surprised by how few feet of shelving you will actually need!
Tailor-Made:
Our garage shelving can be tailored to the design of your garage or your unique requests.
Contact us
to find out what we can do for you!
Accessible: The unique design of our garage shelving allows homeowners to store seldom-used items on top while hanging frequently-used items below for easy access.
Get the garage shelving Charleston homeowners trust today. Our trained professionals are standing by to help you create your dream garage.
FREE ESTIMATE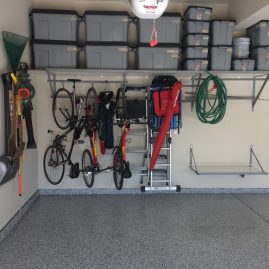 The products are of superior quality and the installation was done professionally and in a timely manor. I had a ceiling rack… Read more
PROFESSIONAL INSTALLATION
You work all week, the last thing you want to do is spend your weekend installing garage storage products. Let us handle everything and spend your free day the way you want. Our experienced installation team will ensure your new storage products are installed correctly and will leave your garage clean of any installation debris.
ADDITIONAL BENEFITS
Organization Help: After installing your new garage shelves, we will take the time to help you organize your items on those shelves.
Inverted Shelves:
Don't let the space above doors or windows go to waste! Our inverted shelves are perfect for maximizing those spaces by easily storing bins or boxes
.
Affordability:
Because you can store more in less space, you will save money on storage products
.
// AS SEEN ON
The Gorgeous Garage products we carry have been featured on popular home improvement shows like Property Brothers.
If you're interested in what Garage Ops can do for your garage, give us a call. We will travel to your home at your convenience to help you create the perfect plan. Contact us today to get started.

It's more than storage.
It's your life.™
IT ALL STARTS WITH THE SHELF
//
24" D-10 GARAGE SHELVING
24" deep shelf, 10 adjustable bar positions.
//
16" D-6 GARAGE SHELVING
16" deep shelf, 6 adjustable bar positions.
//
24" D-6 GARAGE SHELVING
24" deep shelf, 6 adjustable bar positions.
32" deep shelf, 10 adjustable bar positions.
Great for over windows and doors.
Great for over garage doors.
Easily and securely snaps in and out of the brackets. Available in 35" and 51" lengths.
Hooks snap on and off bars and hang almost anything off the ground.
Eight
hook types to neatly store the items in your garage
.
//
ADJUSTABLE WALL SHELVES
Shelves 13" deep and 36" or 44" long. Can mount directly to a wall or suspend from a Monkey Bar.
Sturdy when you need it, out of the way when you don't.
Easy organization for sports fans in your family.
Great for helmets, sports gear, exercise equipment and more.
Perfect for holding garden hoses, air hoses, and extension cords.
Stores golf balls, baseballs, hand tools and more.