// DURABLE FLOORING
Give your garage a gorgeous floor that lasts.
// WORRY-FREE FLOORING
Spills wipe right off our durable flooring.
// BEAUTY AND DURABILITY
Give your garage the floor it deserves.
CONSULTATION
IT'S TIME TO GET ORGANIZED.
CONSULTATION
IT'S TIME TO GET ORGANIZED.
GARAGE FLOORING CHARLESTON RESIDENTS HAVE BEEN LOOKING FOR
Here at Garage Ops we think you garage floor is one of the most overlooked, but most important features of your home. Your garage flooring can really make or break your garage experience. Our garage flooring is the most durable garage flooring in Charleston, and the right choice for your home.
Our epoxy/polyurea floor coating can be installed in as little as one day, and keeps your floor maintenance-free and stylish.
Our floor tiles are durable and adjustable. They're the thickest tiles on the market, and can be easily taken with you if you decide to move to a new home.
Our professionals will properly prep and install your new garage flooring, ensuring that it will outlast any DIY system.

INDUSTRIAL STRENGTH
Our garage flooring can handle years of abuse

EASY TO CLEAN
Maintaining a pristine appearance is no problem.

CHEMICAL RESISTANT
Don't fret over spilled gas or oil

PROFESSIONAL INSTALL
Authorized dealers to ensure a proper installation
WHY WE OFFER THE #1 GARAGE FLOORING IN

CHARLESTON
Get ready to be the envy of the neighborhood. We have the garage flooring Charleston residents love, and these benefits make it easy to see why.
Maintenance-Free: Both our tiles and our coating make cleaning your garage a breeze. They're both resistant to water, oils, and other chemicals keeping them from staining, and a quick wipe will clean them right off.
UV Stable: Leave the garage door open as long as you'd like, because no matter how long the sun beats down on your floor, it wont fade or turn yellow. Your garage floor will look new for years.
Customize: Have a specific look in mind for your garage? Our flooring options come in many different colors and styles making the design options endless.
Guaranteed to Last: Our garage flooring in Charleston is the longest lasting flooring on the market. We've even backed it up with a warranty.
FREE ESTIMATE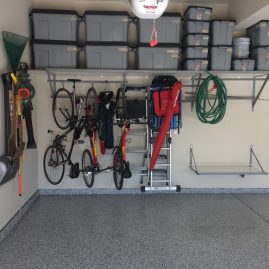 The products are of superior quality and the installation was done professionally and in a timely manor. I had a ceiling rack… Read more
MORE BENEFITS FOR YOU
Seamless Finish: We fill all the cracks, chips, and other imperfections in your floor before installing any new flooring, giving you a perfect finish.
Non-Toxic Chemicals:
Our garage flooring in Charleston is created with non-toxic chemicals with low VOC, keeping you and your family safe.
Quality: At Garage Ops we pride ourselves in providing you with nothing but the highest quality materials and service. We care about you and your garage and want you to have the best experience.
// AS SEEN ON
Call us today for a free estimate and consultation! We're excited to help you get started on your new garage floor.

It's more than storage.
It's your life.™