// DURABLE FLOORING
Give your garage a gorgeous floor that lasts and lasts.
// CLEAN AND NON-SLIP
Our flooring makes your garage easy to clean and safe to use.
// LIQUID RESISTANT
Wall-to-wall flooring that resists water, oils, and chemicals.
CONSULTATION
IT'S TIME TO GET ORGANIZED.
CONSULTATION
IT'S TIME TO GET ORGANIZED.
TOUGH GARAGE FLOOR COATING CHARLESTON
RESIDENTS WANT
Epoxy floors can beautifully transform a garage from stale to sharp-looking. There truly is no better way to complete your garage transformation than with a new floor. With our epoxy coatings, your floor will maintain its fresh look for years to come without peeling or fading. Get garage flooring that lasts!
We offer an endless variety of coating and flake color combinations. We work with you to get the perfect color that matches your taste and style.
Our garage floor coating in Charleston provides 3 layers of protection to seal your floor and increase the lifetime quality of the epoxy itself.
Cleaning is as easy as wiping the floor with a rag. No need to worry about stains, peeling, or cracking that needs to be fixed.
NO PEELING
Diamond grinding ensures a superior bond that won't peel
UV STABLE FLOORING
Base coat will never fade, top coat will never yellow

CRACK & SPALLING REPAIR
We fill cracks, spalling, and control joints
EPOXY FLOORING ADVANTAGES
There are many options for re-doing the garage floor. Here is what sets our services from the rest:
Floor Repair: Before applying the first coat, we fix cracks and imperfections so they won't show through and ruin the look. This also seals your floor so it can last longer without needing costly repairs.
Fast Installation: Depending on the floor condition, install can be completed in as little as 1 day.
UV Stable: The West Virginia sun and hot summers will not cause fading or discoloring. No need to hassle with re-coating the floor every couple years.
Low VOC: Our solution does not contain harmful chemicals that can affect pets, children, or those with sensitivities.
We provide reliable garage floor coating Charleston families can count on. Contact Garage Ops today to request your free quote!
FREE ESTIMATE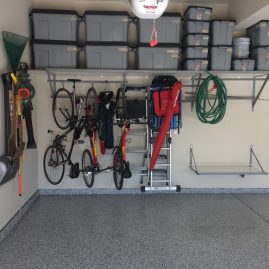 The products are of superior quality and the installation was done professionally and in a timely manor. I had a ceiling rack… Read more
EPOXY FLOOR COATING FEATURES
Outlasts DIY Systems: When it comes to epoxy, you get what you pay for. DIY kits tend to use a cheaper, watered down solution. The high percentage of solids in Gorgeous Garage flooring allows it to adhere to the concrete better and prevent any damage or peeling.
Increases Home Value:
A
Garage floor coating in Charleston is a hot addition to have for a home and makes it stand out in the housing market.
Stain and Abrasion Resistant: The protective surface makes it impervious to chemicals, oil, dirt, and water that would otherwise stain or damage your concrete. The durable top coat will never show scratches or abrasions.
Proper Prep:
DIY kits use an acid wash that usually doesn't suffice for getting a quality end result. We diamond grind the floor to smooth it and improve coating adhesion so your new flooring can look beautiful for years
.
// AS SEEN ON
Gorgeous Garage products are nationally recognized as quality solutions that have transformed thousands of garages. They have been proudly featured on popular home improvement shows like Property Brothers.
Get the best flooring for your garage and contact Garage Ops for your custom install!

It's more than storage.
It's your life.™