// GARAGE STORAGE SIMPLIFIED
Beckley has never had it easier.
CONSULTATION
IT'S TIME TO GET ORGANIZED.
CONSULTATION
IT'S TIME TO GET ORGANIZED.
TOP OF THE LINE GARAGE STORAGE
BECKLEY
TRUSTS
It's easy to use the garage as the place you store all of the items you don't want in the house but the clutter can get overwhelming. We're here to help you make sense of your storage situation. With our garage storage in Beckley, you'll find that your garage can be clean and organized while still holding all of your storage items.
GARAGE STORAGE BECKLEY HOMEOWNERS LOVE
We will work with you to create a garage storage plan that is congruent with your storage needs and budget. Our garage storage is fully customized to exactly what you need and want. Our trained professionals will install your new system for you and then help you get everything organized.
Quality Storage: Our storage is made from only the best materials. You can rest assured knowing that your storage system will last years, through wear and tear. You won't have to worry about upgrading your system because our products are built to last.
Create Space: You'll be surprised at how much room your garage has, even if it's a smaller garage. Our systems are designed to utilize unused wall and ceiling space to ensure that every item has its own place.
Stacking Options: Our innovative hook and bar system allows you to stack and layer items on bars to create even more space. Stack boxes above and hang garden tools, sports equipment and more below.
Interested in learning more about our products? Call Garage Ops to find out more about our garage storage in Beckley!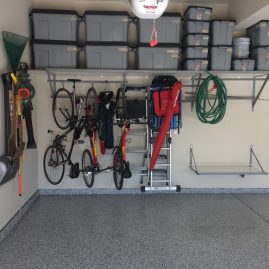 The products are of superior quality and the installation was done professionally and in a timely manor. I had a ceiling rack… Read more
PRODUCT SOLUTIONS
Garage Shelving:
Our steel shelving is tough and durable. Every 4 ft. of shelving holds 1,000lbs.
Garage Cabinets:
Find a place for all of your smaller items with our garage cabinets. Our cabinets are perfect for protecting your items from the elements.
Overhead Garage Storage:
Our industrial grade overhead storage racks are the strongest on the market. Store seasonal items up and out of the way.
Garage Flooring:
Add a professional, classy look to your garage with our custom garage floor coating or modular tiles.
FREE ESTIMATE