//
GARAGE MAKEOVERS IN CHARLESTON
Design your garage to match your style.
CONSULTATION
IT'S TIME TO GET ORGANIZED.
CONSULTATION
IT'S TIME TO GET ORGANIZED.
GARAGE STORAGE
CROSS LANES
FAMILIES TRUST
A garage is meant to support your lifestyle. However, in most garages, that doesn't happen. We often restrict what we can keep based on the room left in the garage. At Garage Ops, we want to help you solve that issue and provide storage solutions that sufficiently meet your changing needs
.
CUSTOM STORAGE PRODUCTS
Gorgeous Garage systems come in a wide range of products and options so you can get the most out of your storage space. Get garage storage in Cross Lanes that you can count on.
Industry-Leading Strength: Our shelving and racks have one of the highest weight capacities for storage solutions, allowing you to more in the less space.
Flexible Solutions: We offer shelving and cabinets in a variety of lengths and dimensions that's custom built for your needs. They also include adjustable accessories to increase storage space and provide convenience.
Powder-Coated Steel: The garage is affected more by extreme outside temperatures than the rest of the home. Storage products need to be built to withstand the worst, that is why ours is constructed with powder-coated steel.
Storage for Any Need: Our garage storage in Cross Lanes allow you to layer your belongings by need. Long-term and seasonal items can be stored on high shelves and overhead racks. Short-term items can be hung on racks and low shelves. Items that need to be hidden can be locked away in cabinets.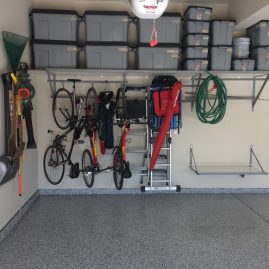 The products are of superior quality and the installation was done professionally and in a timely manor. I had a ceiling rack… Read more
PRODUCT SOLUTIONS
Garage Shelving:
The ultimate system for storing more and maximizing accessibility. Get garage storage Cross Lanes families rely on the most.
Garage Cabinets:
Eliminate clutter for good with our custom cabinet systems. Includes countertop and slatwall options for creating your personal garage workshop.
Overhead Garage Storage:
The best choice for making a 2-car garage live up to its name. Store everything high and out of the way.
Garage Flooring:
Decorative and protective floor coatings or tiles to add the finishing touch to your garage makeover.
FREE ESTIMATE