//GARAGE STORAGE SIMPLIFIED
Ripley has never had it easier.
CONSULTATION
IT'S TIME TO GET ORGANIZED.
CONSULTATION
IT'S TIME TO GET ORGANIZED.
GARAGE STORAGE
RIPLEY
RESIDENTS NEED
We specialize in garage storage and organization that lift your things up off the floor. We offer the best services and products on the market.
Our garage storage in Ripley is measured to fit and utilize the most of your available garage space, giving you more room to store the things you love.
PRODUCT BENEFITS
With a place to put all your things, your garage will become more than a storage unit. You can transform your garage into a magnificent and efficient living space.
Modifiable Storage: Your garage storage in Ripley can be modified to accommodate new things you acquire. All of your storage will remain within arms reach.
Hard-Wearing: Our products are guaranteed to last. Your garage storage can handle constant weight, bearing stress for many years to come.
Space For Everyone:
With this garage storage in Ripley you can organize your storage to meet your family needs. Hang and sort everyday items with ease.
Lifetime Warranty: We are 100% confident in our products and provide a Lifetime Warranty to protect your investment in case problems arise.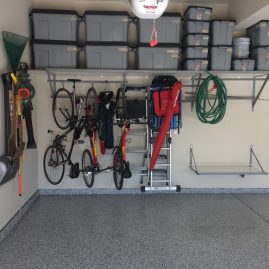 The products are of superior quality and the installation was done professionally and in a timely manor. I had a ceiling rack… Read more
FEATURED PRODUCTS
Garage Shelving:
Our garage shelves provide a place for long and short-term storage.
Garage Cabinets:
Keep your garage decluttered by placing your things in cabinets. Your garage will have a seamless and unified look.
Overhead Garage Storage:
Overhead garage storage is a great place to store your heaviest and odd shaped items up and out of the way.
Garage Flooring:
Our garage floor tiles and coatings will cover any imperfections your garage floor may have.
FREE ESTIMATE