//
GARAGE STORAGE SIMPLIFIED
Scott Depot has never had it easier.
CONSULTATION
IT'S TIME TO GET ORGANIZED.
CONSULTATION
IT'S TIME TO GET ORGANIZED.
GARAGE STORAGE SCOTT DEPOT HOMEOWNERS DESERVE
Don't settle for l
ess w
hen it comes to taking care of the treasures stored in your garage. It's easy to stack or pile items in the garage and put off organization. We know its overwhelming sometimes, but we believe the garage can be a place of order with our products for garage storage in Scott Depot. With our products, everything in your garage can have a designated place, and you can rediscover your floor.
TRANSFORM YOUR GARAGE
Your garage storage can be as unique as you are. No two homeowners are the same, that's why all of our products for garage storage in Scott Depot can be customized to fit your needs.
Maximize Space: The reason ours is the garage storage Scott Depot families love most is because they can store 3X more is less space. We utilize the space on your walls and ceilings, keeping your floor clear.
Professional Install: You wont have to lift a finger. We handle the prep work and the installation of you storage solutions.
Long-Lasting: All of our products are made with quality, durable materials guaranteeing they'll last your family for years. They're all backed with warranties too!
Give us a call today for a free estimate on the best garage storage in Scott Depot!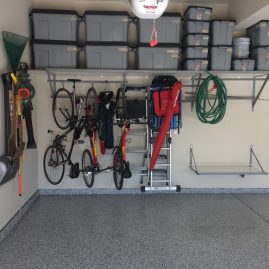 The products are of superior quality and the installation was done professionally and in a timely manor. I had a ceiling rack… Read more
GARAGE STORAGE FOR SCOTT DEPOT
Garage Shelving:
The strongest shelves on the market. These are guaranteed to hold 1,000 lbs every 4 ft and will last a lifetime.
Garage Cabinets:
These lockable cabinets are great for keeping items safely tucked away and protected.
Overhead Garage Storage:
The perfect solution for long term storage. Still easily accessible while out of your way.
Garage Flooring:
Beautify and strengthen your current concrete floors with our epoxy coatings.
FREE ESTIMATE