//GARAGE STORAGE SIMPLIFIED
Winfield has never had it easier.
CONSULTATION
IT'S TIME TO GET ORGANIZED.
CONSULTATION
IT'S TIME TO GET ORGANIZED.
ADJUSTABLE GARAGE STORAGE
WINFIELD
DEMANDS
Are you embarrassed for friends, neighbors or family to see your garage? Do you close the garage door as quickly as you can when you leave? We can help you transform your garage into a space you want to show off with our products for garage storage. We offer a variety of storage solutions to help you create a custom plan to fit your lifestyle best.
VERSATILE PRODUCTS
Products for garage storage in Winfield shouldn't be difficult to use. Our products are easy to use for all ages. Don't settle for a one-size-fits-all solution, your garage deserves a tailor-made storage solution.
Integrated Storage: Although our solutions for garage storage in Winfield can stand alone, they work even better when integrated with our other storage solutions.
Maximize Space: Through the use of underutilized spaces like walls, space above doors or windows and the ceiling, we are able to get your items safely off the floor and out of the way.
Industrial-Strength: Our products are made with top-of-the-line materials to ensure longevity. Store up to 1,000lbs on every 4ft of our shelving or up to 100lbs on our cabinet shelves.
Professional installation: Your time is precious, don't spend your day off installing your new products for garage storage in Winfield. We will handle all of the installation and clean up any installation debris before we leave.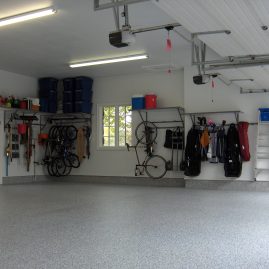 I did a little of everything including the entire floor, cabinets, monkey bar system to hang bycicles on and the slat wall sy… Read more
AVAILABLE PRODUCTS
Garage Shelving:
Made from industrial-grade steel, our garage shelving is powder-coated to withstand scratches and rust.
Garage Cabinets:
Cabinets are perfect for storing your things behind closed doors in order to give your garage a clean and sleek look.
Overhead Garage Storage:
Trusted by homeowners across the country, our overhead garage racks keep your seldom used items safely out of the way. Each rack is made with a 2" safety lip all the way around.
Garage Flooring:
Upgrade your boring garage floor with a brand new, durable garage floor. We offer a variety of colors and finishes to help you create a unique look.
FREE ESTIMATE